PLU Major Systems Outage - Saturday, July 14th
Beginning approximately 4am Saturday morning, many PLU servers went offline causing widespread service disruption, though as of 11am, Sakai was restored, except for outgoing mail sent from Sakai and a few forms on the Sakai Support site. As of noon, these remaining Sakai services were back online. 
A failure of the HVAC (cooling) system for PLU's server room in Morken caused critical server equipment to execute thermal shutdowns to prevent damage. This caused a significant disruption of many campus services. Cooling to the room has been restored followed by immediate emergency restoration efforts to restore services.
Check https://www.plu.edu/status/ for periodic updates.
Course Request Form Upgraded
On Friday, June 15, the Request Course form through which instructors request new Sakai course sites was revised so that instructors can select from three different options for course site templates: Standard, Minimal, and Legacy. Each template contains a general set of tools and pages (depicted below) to be updated by the instructor before publishing the site to students.
The revised Request Course form now also provides instructors the means to create course sites without reference to a Course Reference Number (CRN) in Banner. Furthermore, instructors can add CRNs to any of their existing course sites for the given academic term.
More details about the new form is available in the Site Setup Tutorial, which also provides a walk-through of an instructor's main tasks for setting up a Sakai course site. For more context and details regarding the new Sakai templates, see the post New Sakai Templates - Released June 15, from the Teaching at PLU blog.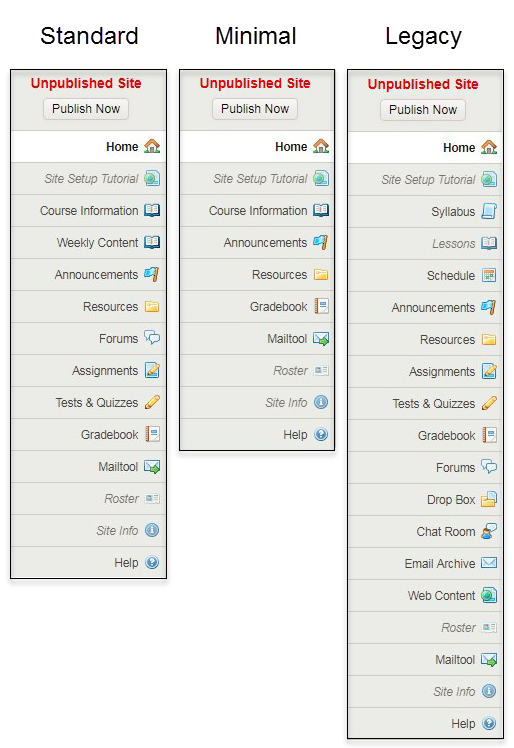 Click on image above to enlarge.
How to Use the Forums Tool
Watch the video below for a tutorial on how students can use the Forums tool. More information is available in the Forums help documentation, including How do I post to a forum?, How do I reply to a forum post?, and the Sakai Forums Survival Guide for Students.
How to Submit an Assignment
Watch the video below for a tutorial on how students can submit assignments that instructors have prepared in the Assignments tool. More details are available in the Assignments help documentation, including How do I submit an assignment? and How do I view my assignment feedback?
Multi-Factor Authentication
In order to better protect your ePass account and its access to your personal and institutional data, Information & Technology Services is implementing an additional security feature for employees called multi-factor authentication. For more information on this service and why opting in is strongly recommended, please visit our Multi-Factor Authentication webpage.

Click on image above to enlarge.